Vapepax E-Liquid
Hangboo E-liquid factory was established in 2010 and is located in Huizhou City, Guangdong Province, China. We have provided premium E-liquid products to customers in more than 50 countries around the world. We can provide customers with various E-liquid flavors such as tobacco, fruit, beverages, herbs, sweets, pastry flavors, etc. For more flavors customization please contact our business staff.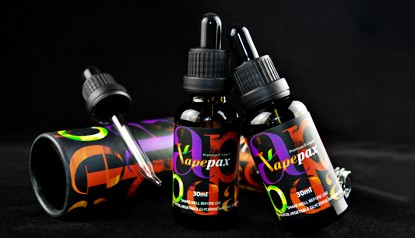 Vapepax is an branded series special developed for Western countries; complex blended, huge vape players.
Apple Caramel E-Juice

mellow taste - ★★★★
Sweet taste - ★★★★
assumes smoothness - ★★★
PG:VG : 45%:55% Nicotine content : 0MG 3MG 6MG

After first inhale, a unique sweet from caramel is explored in mouth, then rich apple comes. After exhale, left maple mixed with raspberry. Strong taste in mouth when inhale and light fragrance at the exhale end, give you different feeling like the sky color at daybreak.

Provide Premium e juice. Global Premium e juice factory.