The amount of cigarettes and the concentration of E-liquid
Views: 344 Update date: Nov 21,2018
When you give up cigarettes and choose to use Vape, it means that you have accepted a new variety, a product that is very different from cigarettes. The product's various indicators and a wide variety of tastes make you feel surprised. This is completely complete with cigarettes. In different fields, cigarettes don't have so many flavors and not so much. For cigarettes, you only need to draw a brand that you are familiar with. If it is Vape, you are different. You can set different powers. Intake size, mouth suction or lung suction, different concentrations of nicotine, different tastes, etc.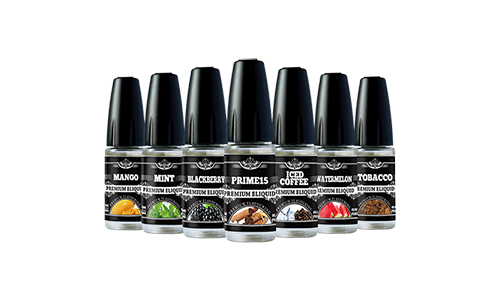 When you start to replace cigarettes with this completely different product, you first bring the theory you get from cigarettes to Vape, such as nicotine. Nicotine is the key to smoking or quitting. It is cigarette addiction. The key factor. Therefore, when smokers first started using Vape, they were most concerned about the content of nicotine. The meaning of nicotine content is generally unknown to smokers, so they like to use the amount of cigarettes to convert to nicotine. For example, what they most often ask is: How much nicotine E-liquid does a pack of cigarettes need? How much concentration of E-liquid is required for the amount of cigarettes per day.

First of all, we must first have a correct understanding of the nicotine content of cigarettes. The nicotine content of different cigarettes is different. The cigarettes smoked a day represent the intake of nicotine. The nicotine content of E-liquid on the market is also different, some of which are nicotine-free E-liquid (especially E-liquid sold on some large e-commerce platforms abroad), and nicotine-containing E-liquid. The nicotine concentration has a bit:

The nicotine content of E-liquid suitable for high-power Vape is 3MG 6MG 9MG 12MG, such as E-liquid labeled 3MG, which means that 3 ml of nicotine is contained per ml of E-liquid; the concentration of nicotine E-liquid suitable for small smoke There are 20MG, 40MG, 50MG, 60MG, etc. If you use the small smoke, I suggest not to choose the E-liquid of nicotine salt, so the taste will be more mellow.

From the above E-liquid concentration, one can see that the E-liquid nicotine concentration used in high-power Vape is lower than the E-liquid nicotine concentration in small smoke. Why is this? This is mainly due to the characteristics of high-power Vape: large smoke, a lot of smoke also brings a lot of nicotine, which will produce a strong irritating feeling in the throat, make the throat feel uncomfortable, there is a problem, that is, we smoke When the time is basically a cigarette and a cigarette to smoke, the number of mouths is basically fixed, then the intake of nicotine is also fixed, and the high concentration of nicotine brought by high power will let you ingest too high nicotine, to you The body brings harm.

Therefore, I recommend that users who use Vape for cigarettes or quit smoking should choose small cigarettes, because small cigarettes are closer to cigarettes regardless of taste or smoking habits. Small cigarettes can choose 40MG or so nicotine salt E-liquid first. After the number of mouths is the same as the number of regular cigarettes, you can get satisfaction, because the nicotine you have taken has already met your needs. If you still have insufficient income, you need to increase the concentration of nicotine, such as 50mg or 60MG nicotine salt E-liquid.

Of course, we can also choose nicotine E-liquid by feeling, such as Throat hit, the more comfortable Throat hit is what you need, don't choose E-liquid that will make you feel unfamiliar or tingling; nicotine concentration Too high will create another problem, that is, it is difficult to understand the original taste of E-liquid, because high concentration of nicotine gives you a strong sense of excitement, so that you can not understand the taste.