E-liquid question series 1 about vape smoking cessation
Views: 270 Update date: Nov 13,2018
1. Question: Does the taste of tobacco-flavored E-liquid and cigarettes look like?
Answer: Vape was invented because it was originally used as a "quit smoking" tool, so many people are more concerned about how much the taste of vape differs from cigarettes. In fact, cigarettes are smoke generated by burning, and vape is a mist generated by heating and evaporating E-liquid. There is a fundamental difference in the working principle between the two. The way of working differs from the form and composition of smoke, so the taste of vape is quite different from that of cigarettes.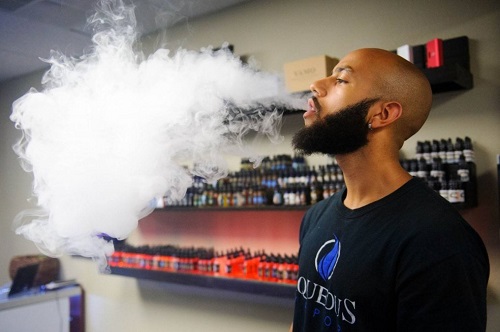 Tobacco E-liquid has always been the most concerned flavor in vape, and many people hope that vape can get the same feeling as cigarettes, but even if the taste of tobacco E-liquid is high, users will feel less. What have you done? This is actually caused by the difference in smoke between vape and cigarettes. For cigarettes, vape is a completely different product, so using vape should adapt to the taste of vape.

2. Question: Why does E-liquid dry mouth, chest tightness, and cough?

Answer: The vast majority of users are very concerned about their physical feelings when they first start using vape, compared with smoking cigarettes. Although the vast majority of people will feel the symptoms of discomfort during smoking, many people will feel dry mouth, chest tightness and cough.

Dry mouth is because the PG and VG components in E-liquid are highly hygroscopic and will take away a lot of water in the mouth, so use vape to pay more water and replenish moisture. Some people may also cause symptoms such as mouth ulcers and fire due to dry mouth. At this time, stop using them and continue to use them after the symptoms are eliminated. This situation is mostly related to the quality of E-liquid, and the replacement of high-quality E-liquid will largely avoid the above symptoms.

After stopping smoking cigarettes, symptoms such as chest tightness and chest pain caused by tobacco are usually significantly improved. If you have symptoms such as chest tightness and cough due to the use of vape, it means that you may use inappropriate E-liquid, which needs to be noticed by the user.

Chest tightness and cough are often caused by two reasons. One is that the concentration of E-liquid nicotine used is too high or vape is too frequent; the other is that it may be allergic to PG components in E-liquid. The difference is whether it is accompanied by symptoms such as stomach discomfort and nausea.

If the chest is stuffy, coughing and the stomach is not comfortable, dizziness, nausea, then the nicotine concentration is too high, can be solved by replacing the low concentration of E-liquid. If you just have chest tightness, cough, and stop the symptoms after using vape, it is probably caused by PG allergy. The solution is to use high VG ratio E-liquid or even full VG E-liquid to reduce or eliminate symptoms.

Regardless of the symptoms and causes, it is Premium to go to a doctor if you are not feeling well, so as not to delay your illness.

3. Question: Is 1ml E-liquid equivalent to a few cigarettes?

Answer: When smokers smoke, the way to measure is often "package" or "branch". For example, if you smoke "half pack" cigarettes every day, it is 10 cigarettes. Every day, "two packs" is 40 cigarettes. There is also a corresponding measurement method for using vape, which is how many "ml" E-liquid is used every day. It's just that this conversion and comparison doesn't make sense.

In fact, the most harmful to the human body in cigarettes is not nicotine, but other substances such as tar and carbon monoxide. Because of the lack of relevant science in the country, people have "talked about nicotine discoloration", mentioning the harm of cigarettes and carcinogens. First thought of nicotine.

At present, the amount of nicotine in domestic cigarettes is also the content of nicotine in the smoke is 1.1 mg per stick. The specific content can be seen on the side of the cigarette pack. If the E-liquid concentration is 6 mg/ml, then one milliliter of E-liquid is approximately equal to the nicotine content of five cigarettes. If the E-liquid concentration is 3 mg/ml, then one milliliter of E-liquid is equivalent to about the nicotine content of three cigarettes.

Then why does this conversion have no practical significance? Because the information collected by the previous voting shows that the consumption of vapeE-liquid by most people is about 3-5ml per day, even if it is 6mg, even if it is taken every day. Nicotine content of 16-27 cigarettes. Moreover, many large smokers consume more E-liquid per day, which is equivalent to an average of 15 ml per day and a concentration of 3 mg, which is equivalent to a nicotine content of 41 cigarettes.

For a normal person, if you inhale so many cigarettes every day, your body will be very uncomfortable and cause great harm to your health. In addition to nicotine, cigarettes also contain toxic substances such as tar and carbon monoxide. But for vape, E-liquid contains only nicotine, no tar and other substances in cigarettes, so this conversion has no practical significance.

However, it is not possible to abuse vape because of this. After all, nicotine inhalation will cause poisoning, so please be temperate. Once you have experienced "dizziness", "chest stuffiness", "disgusting" in the process of using vape, Excessive intake of nicotine, stop using vape, ventilate, breathe fresh air, drink plenty of water. If the symptoms are serious, you need to seek medical advice promptly.

4. Question: How long can a bottle of E-liquid last?

Answer: The frequency of each person using vape and the different package size of E-liquid will cause the difference in E-liquid usage time. According to the frequency of use of newcomers, in the case of using a finished mouth suction atomizer, most people probably consume about 2-3 ml of fuel per day. If the E-liquid package is 10 ml, one bottle of E-liquid can be used for 3-5 days, and if the E-liquid package is 30 ml, then 10-15 days can be used. Based on your actual fuel consumption and the capacity of the E-liquid package, and so on.

5. Question: What is the difference between domestic E-liquid, Malay E-liquid, and European and American E-liquid?

Answer: E-liquid can be divided into domestic and imported according to the place of origin. Imported E-liquid can be divided into two major series: Malay and the United States.

Domestic E-liquid is characterized by an affordable price, based on a single taste, and the composite taste is often inferior to imported E-liquid.

Malay E-liquid is characterized by moderate price and long taste with mixed fruit and mint. It is very popular among vape novices. However, the high sugar content and serious carbon deposition are also the biggest shortcomings of Malay E-liquid.

The imported E-liquid has a high price and is mainly characterized by a mixture of various flavors. The dessert and cream are representative of the E-liquid taste in Europe and America, and the taste is complex and the layering is rich. Although there are also fruit-mixed formulas, they are not as prominent and distinct as Malay E-liquid fruit.