DIY e liquid VG
Views: 625 Update date: Aug 10,2018
VG, also known as glycerol or vegetable glycerin, is a water-soluble liquid that is viscous and extracted from natural plant materials and can be used in food, cosmetics and pharmaceuticals. VG is naturally sweet and generally sweeter than propylene glycol (PG) and can be used alone or in combination with PG.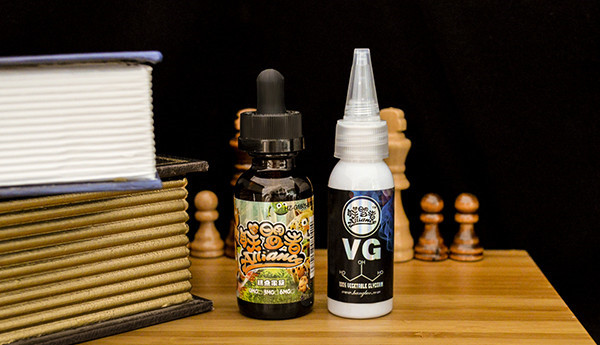 VG is generally eye-catching on the e liquid bottle, I believe many people are familiar with it. If you want to play with big smoke, then you must have VG, its main role is to produce a lot of fog. However, VG has a high viscosity and poor fluidity, so it is generally required to be diluted with PG or distilled water, and compared with PG, general flavors and additives are difficult to dissolve in VG. VG is much softer than PG, and the resulting smoke inlet is soft, but it is not as good as PG for improving the taste of e liquid.

As a DIY e liquid enthusiast, where can I buy VG? ? There are two places to buy, one is pharmacies can buy, one can be purchased from e liquid supplier, their stores are generally VG.

The e-liquid of large smoke is a favorite of many e-cigarettes because it can produce a more powerful smoke effect, and the 70% VG e liquid, which is more common in the market, is a product that takes into account the smoke and taste, often smoke. The effect is not outstanding. How many ratios of VG are considered to be e smoke? According to e liquid manufacturer's definition of large smoke e liquid, 80%-85% VG e liquid is a large smoke e liquid.

As a DIY e liquid enthusiast, I have a good grasp of the VG's ratio. One more point may be too sweet, and one less point will not produce enough smoke. For newcomers to DIY e liquid enthusiasts, I suggest starting with 70% VG, starting with a big smoke effect, waiting for some experience, and then improving from the taste.

Some people who spoke smoke will use 100% VG, so the smoke will be better, but there are disadvantages, it is sweet. A lot of user feedback is 100% VG will be a bit disgusting, so 100% VG is only suitable for performance.