Are there too many additives in E liquid?
Views: 393 Update date: Nov 20,2018
Some of the chemicals used in the E liquids of some brands of e-cigarettes exceed the recommended exposure limits and may irritate breathing. According to a study published in the journal Tobacco Control.
The e-cigarette market has developed rapidly in recent years. In 2014, global sales were estimated at 7.9 billion U.S. dollars, but the impact of e-cigarettes on health is still heated. The artificial and other flavorings in e-cigarettes are mostly the same as those used in the manufacture of food and confectionery, and therefore generally indicate that the electronic E liquid is safe.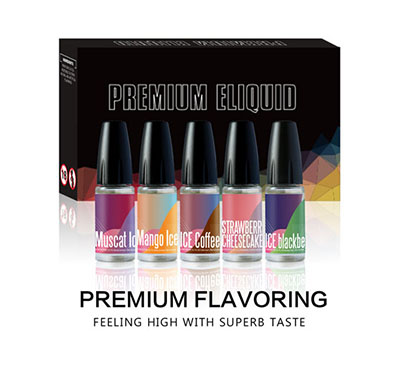 However, as the American Fragrance Extract Manufacturers Association (FEMA) points out, this safety standard involves eating, not inhaling. The ingredients listed in the label for electronic cigarette products are rarely used for flavoring chemicals. Therefore, the researchers looked for the type and amount of chemicals used to flavor the fragrance in 30 electronic E liquid samples.

This includes one-off brands, five flavors of tobacco, mint, vanilla, cherry and coffee, and the same flavor of E liquid, including chocolate and cocoa, grapes, apples, cotton candy and bubble gum.

Through analysis, 13 of the 30 flavor chemicals are more than 2% in content, 7 are more than 2% in content, and 2 are greater than 1%. The same product contains the same vanillin or ethyl vanillin flavor, indicating that a small number of chemicals are particularly favored by manufacturers and users. Chemicals for the taste of candy are contained in many "tobacco" flavored E liquids.

Six of the 24 compounds were shown to be aldehydes, which are primary respiratory stimulating compounds. The researchers said that exposure to about 5 ml of formaldehyde and vanillin per day is twice the recommended limit.

"Poisonous degradation products can be produced by the reaction of flavoring chemicals at elevated temperatures," they warned. They acknowledge that the sample represents only a small fraction of the e-cigarette products on the market. But they said: "However, the results obtained are likely to be similar to an extensive survey, indicating that the flavoring chemicals present in thousands of product species are very high."

Therefore, they believe that the corresponding regulations are required, which should include a mandatory list of ingredients, limit the level of certain seasonings, and limit the total allowable level of seasonings, especially the concern that seasoning products may make electronic cigarettes younger. People are more attractive.