Cannabis E-liquid is checked again
Views: 281 Update date: Nov 12,2018
In the recent article "Cannabis e-liquid, is the fault of VAPE?", there is a mention of marijuana E-liquid. It is also clear that the responsibility of marijuana should not be taken care of by E-liquid. It is only a kind of people who smoke marijuana. There are many ways to smoke marijuana, so in China, our E-liquid manufacturer is against marijuana E-liquid and will not manufacture cannabis E-liquid, but it also prevents people from buying cannabis E-liquid from overseas.
A lot of news about the cannabis E-liquid being seized by the customs some time ago, the cannabis E-liquid has attracted the attention of the customs, and recently a case of cannabis E-liquid was investigated.
Gongbei Customs disclosed on the afternoon of October 20 that the customs of Jiuzhou Customs seized 14 E-liquid products containing electronic components of drugs. On the 19th, three suspects, including Yang Moumou, Tang Mou and Chen Moumou, were arrested.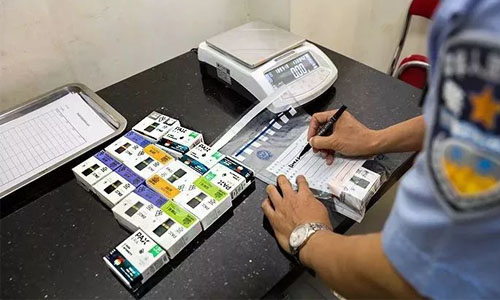 On October 18th, the mail that was declared as "eyebrow pencil, lipstick, hoodie" caught the attention of customs officers: In this email that does not accept door-to-door delivery service, there are only 14 e-liquid products and 1 hoodie.

Approved by the Judicial Appraisal Center of Gongbei Customs Anti-smuggling Bureau, it is confirmed that these E-liquid products contain the main components of cannabis, such as tetrahydrocannabinol, cannabinol and cannabidiol, which are prohibited from entering the country.

On October 19, Jiuzhou Customs Private Branch and Zhuhai Public Security Bureau Gongbei Port Branch arrested three suspects involved in the case. It has been verified that these e-cigarette E-liquids containing cannabis are jointly funded by them and entrusted to the American Chinese Li Moumou to purchase them in the United States and mail them into the country for use. At present, the case is under further investigation.

On October 20th, the customs issued a warning: the seized cannabis E-liquid can be used with ordinary electronic smoking articles. The threshold is low and the privacy is high. E-liquid contains high-purity cannabis extract, which is more than traditional drug marijuana. More addictive and confusing. According to relevant customs regulations, illegal illegal transportation of drugs by mail will be subject to severe legal sanctions.

Once again, Hengboo e-liquid manufacturer reminds you that Vaper, marijuana is a contraband in China. It is illegal to buy and use E-liquid containing marijuana in China, and the penalty is very heavy. I hope that you don't have the luck to stay away from marijuana E- Liquid is the greatest love for one's life and body.