Nicotine juice strength
Views: 1760 Update date: Oct 10,2016
Strength of nicotine juice means how many mg nicotine in 1ml nicotine juice.
Normal nicotine strength are 0mg、3mg、6mg、12mg、18mg、24mg.
Choose proper nicotine strength in right flavors will help you to be accustomed to e-cigarette and get
rid of harm and dependence of traditional cigarettes. And then help you to quite smoke.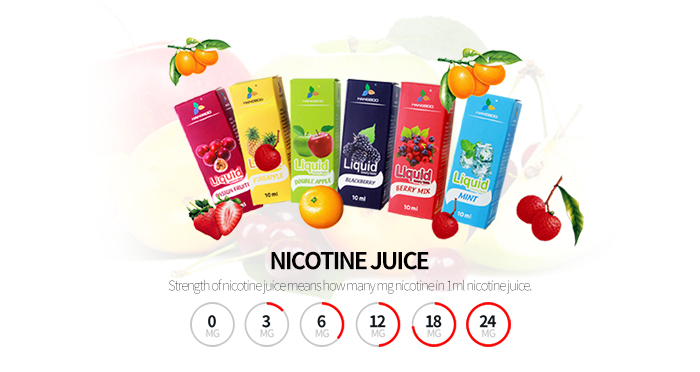 | | | |
| --- | --- | --- |
| | Friendly Tips: | Non-smokers are suggested to use 0mg nicotine juice; |
| | | Smokers (1 bag/day) are suggested to use 6mg nicotine juice; |
| | | Smokers (2 bags/day or more) are suggested to use 12mg or more nicotine juice。 |

Prev:Hangboo offer you wholesale e juice