Experience sharing of a DIY e-liquid vaper
Views: 310 Update date: Oct 10,2018
Here is a vaper experience sharing DIY e-liquid:
Today we talk about what kind of fragrance is the easiest way to help you open your DIY e-liquid path at the beginning. Here I just want to talk about some simple flavors that can help you find your own simple direction in the beginning of DIY e-liquid. Maybe this can help you find some of the simplest flavors at the beginning. In the beginning, you don't have to buy so many flavors at once to the end of the pile. After reading this article, you know what to buy initially. Maybe at first you are like me, I bought a bunch of flavors of your favorite taste online, but the fragrance is in my hand but I don't know how to start. I don't know how to mix these flavors.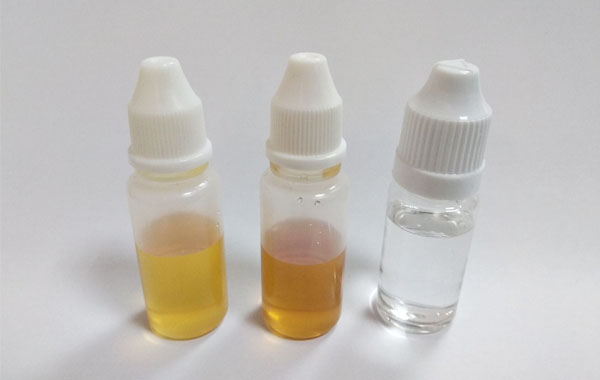 For example, I don't know how this fragrance blends with the flavor, so today I want to talk about some simpler flavors that can help you find your direction at the beginning. So you can find the easiest way to do some self-adjusting e-liquid that you think is good at the very beginning. The flavors I am talking about now can be blended with simpler and other flavors. They don't need too much, they are good if they taste it. But they will be better when the other flavors are mixed together. So after getting these flavors, you just need to know how much to put, and then add other flavors you like, such as some fruits, on it.
The first thing I want to talk about is that you can still see on some DIY e-liquid formulas until now:
1, vanilla bean ice cream
Saying that while I am typing, I am eating vanilla ice cream. Some friends who have experience may not like TFA vanilla ice cream too much, some people will think there will be some pepper in it. In fact, it is very disgusting. If so, you can use CAP's vanilla bean ice cream or FW's vanilla beans and bully. Or you can use CAP's whipped cream, or FW's sweet cream.
These flavors can give you a basic taste. Basically, after you have selected this bottom flavor, add some fruit on great of it, and it will mix well with a good taste. They will all be more integrated. For example, I use TFA vanilla beans and bully, I add 5%, I add some strawberry flavor, such as 5%, or other such as blueberry, raspberry, blackberry, you can also add some peaches, such as CAP peach cream, basically You add any fruit, or fruit cream, and TFA vanilla bean ice cream will sound good. Just think about the ice cream you like to eat, and you can add any fruit to it.
2, yogurt
You can do the same with the above, plus some yogurt. For example, I like the taste of yogurt, CAP yogurt cheese, or CAP Greek yogurt. They are all sour but not sour, they have a real yogurt taste and are smoother.
For example, CAP yogurt cheese, 5-6%, plus some fruit flavors you like, it's very simple. But don't add the jujube flavor of the flavor. Still very disgusting. Because the big date of thinking gives me the feeling of a cooked jujube, because no one likes cooked yogurt?
3, vanilla custard
I prefer CAP vanilla custard V1, V2. Basically this fragrance mixes well with a lot of flavors. The taste is not as hard as ordinary vanilla. More smooth, more intense or not. If you don't like the special milk flavor of this vanilla custard. You can use FA's vanilla custard. It will be more natural. There is also FA's Viennese cream, FA's fresh cream, and the two together are also very good.
4, cotton jelly
Now almost all the creamy taste is finished. Marshmallow is a good friend who likes cream very much, but doesn't like sweet and milky taste. This taste is very rich, and the taste in the mouth is very soft, but they do not have the special taste of milk. Some people can feel a very sweet feeling when they vaping the cream mentioned above. If you are such a friend, cotton marshmallow should suit you.
For example, TFA cotton fudge, CAP cotton fudge, FA cotton fudge. They are very good in all these fragrances. Plus 3-4%, add your favorite fruit, it is also very good.
Very simple. Choose the bottom flavor, add fruit, add fruit, fake fruit. We are talking about the simplest and simplest way to mix. After you find your favorite taste, you can think again, well, my next step, maybe I have to add more, you should try your own taste, and then make your own e-liquid Taste, so you improve, and it's natural.
This way you can slowly enter the pit of the DIY e-liquid without spending too much money or special things.
But if you really don't like cream. Then we can choose, baking flavor
Many people like the similarity of this kind of baking. They may be more difficult. The smell alone is not very good. If you use less, you may not feel the taste. If you use more, you will feel particularly dry.
However, the one that Longge recommended today is personally considered to be good, for example:
5, CAP
snack biscuits this feeling is just taken out of the oven, warm, sugary biscuits. taste. You can feel some of the original flavor of baking, some sugar, and a little bit of coconut or condensed milk. Add some chocolate, or fruit, or any flavor you like, and the fusion is very good. It depends on you. I prefer to add CAP snack biscuits to 5-6%. It is okay to add a little more. This fragrance may require a little bit of time to wake up. Hehehe.
6, FA cookies
Another thing I think is better mixed with other flavors is the FA cookie. The flavor of this fragrance is very good. You can also add any flavor to it. What kind of fruit you like can be added to what fruit? Ok, it's also a very simple matter. For me, the flavor of this fragrance is a bit rich, about 1% is enough. Of course, CAP may be more suitable for some novices, because it is not so strong, it can be easier to adjust, so you can try it first.
7, INW biscuits this feeling
a bit like butter biscuits, but the taste is not so rich, is a light type, this is more suitable for the taste of the biscuit you want, but do not like the special rich creamy taste, sweet. We just want a simple creamy taste on the bottom. This taste is very suitable. Usually I join about 0.5-1% and add some lemons, peaches. If you want something slightly salty, INW biscuits are your Premium choice.
When you use these baking flavors, try to be simple at the beginning, and don't use too much. When you put in a flavor, feel good, you can slowly add some flavors you like. Start with simplicity. Now let's talk about fruit
8, fruit flavor
It's generally simpler, especially the mixture between our fruits and fruits, which is very interesting. You can add a lot of fruit mix and there is no strange feeling. So basically you can mix any fruit between them. So which one you think is better with the taste of which fruit. Try it together and mix it. How much you put, just look at your own understanding. Usually, some great gods use flavors such as TFA, FW, and CAP to increase or decrease from 5%. If FA is used, or INW flavors start with 1%. Adjust slowly, so this depends on your own taste. Usually, if you just mix with 2 kinds of fruits, you should try to put the proportion of the Premium proportion of the essence just fine. For example, tpa strawberry I use 8% most, maybe CAP peach, I put up to 7%, for example, I think CAP peach is the Premium ratio in 7%, I will put 7% instead of 4%, Put as much of your fragrance as possible. Because we don't need to let anything else.
When I think, the two flavors are mixed well. I am vaping and I am enjoying it. Then we think again. Next, maybe we need to add something more, or adjust the ratio. Again, everything starts with the simplest. Long Ge suggested that if you want to make your favorite taste, your favorite ALL DAY VAPE, from the simplest, and gradually complicate your recipe. As you slowly do, you become more and more aware of the flavor of these fragrances. I am coming this way, and now I am telling you to start with simplicity, because I don't want you to enter the pit, and spend a lot of money in the beginning. Waste a lot of flavor, we only need to think a little more carefully, we can save a lot of money, we can not go so many detours, improve faster.
If you are the same as me at the beginning, I bought a box of flavors, and then I started to try it out in a random way. Maybe it was good at the beginning, maybe a few times, and you will be disappointed with the flavor of your own. This is why many people and Long Ge said that they have tried to adjust their own oil before, and the result is very resistant to vaping. Failures again and again will also bring you a blow to confidence, not only in time, but also in psychological frustration. It is impossible to feel comfortable, right?
If you are not bad at yourself, and you are not afraid of failure, of course I think you are going to try it, very brave. I admire. But in the big environment, more people, hopefully, can still save some money as much as possible, in the matter of vaping Vape. So choose to do DIY e-liquid yourself. So let's think a little bit more, do this a little slower, think about it and do it again, slowly, you can also make your favorite e-liquid taste. No need to vaping someone else's fragrance or copying someone else's flavor. You can laugh at Taobao, haha, a group of novice DIY vaper made e-liquid generally not very good, or e-liquid supplier can not live!
Finally, I used to smoke very fiercely, 2 packs of cigarettes a day, certainly not too small, inside the smokers, but even then, I vaping Marlboro, a pack of 15 dollars. 2 packs of 30 dollars a day. I think it is very expensive, if you save money, how good it is. After I entered Vape, I found that I spent more than I smoked. A bottle of 30 ml of oil can save up to vaping at most, only vaping for 2 days. The average bottle of oil is not sold at a controlled price, but also 60/70 yuan. More expensive than my vaping real smoke. I personally don't think this is the right thing. Vape in the production process and cost, and no tax, it should be cheaper than the real smoke vaping. Moreover, in order to better understand Vape and understand Vape. It's not just a niche circle.
in conclusion,
Fruit flavors, you can operate more easily and have more mixing fun. More room for more contrast between fruits. It's also a bit simpler to mix.

Creamy flavors, the easiest to work with other flavors, the simplest to adjust the taste, but not everyone likes the taste of butter, the change is not great.

Baking flavors are more complicated, but the layering is very good, but it is not very simple to use, it is not easy to adjust.

Ok, let's talk about it today. Haha. Thank you for your support, the picture has my taste. If you need it, you can find me to formulate or something. These are all small things.