Beijing International 4th Vape Exhibition
Views: 329 Update date: Oct 23,2018
On October 20-22, 2018, the 4th Beijing International VAPE franchise, distribution and experience exhibition was held at the China International Exhibition Center as scheduled. The exhibition gathered many well-known VAPE brands and manufacturers at home and abroad, attracting many VAPE fans at home and abroad, and the scene is very lively. Beijing International VAPE Join, Distribution, Experience Exhibition (VEB) is the first large-scale professional exhibition event in China with VAPE as the theme, focusing on investment in the industry, customer distribution, terminal experience and industry exchange. VEB integrates resources from all parties. Based on domestic and international markets, it provides high-end professional trading, display and communication platform for VAPE industry; aims to strengthen smokers' awareness of VAPE, promote international exchanges and trade cooperation within the industry, and promote healthy and steady development of the entire VAPE industry.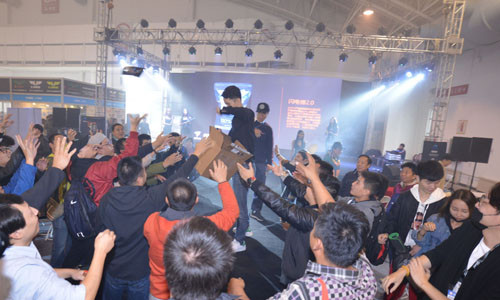 As the only professional VAPE exhibition in the northern region, with an exhibition area of 11,000 square meters, more than 300 companies from 30 countries and regions showcase the world's great brands, the most innovative and cost-effective VAPE and related products. It will continue to deepen the VAPE industry theme, lead the fashion trend of the industry, highlight the trend model, and create the most professional, authoritative and most commercial VAPE Expo in the North.
China Beijing International Vape Exhibition is jointly sponsored by Beijing Qucheng Exhibition and Shenzhen Vape Online Exhibition Company. The exhibition will focus on Vape channel vendors and consumers, showcase the latest products, technologies and services of Vape and e-liquid, sort out the domestic VAPE market operation specifications, and explore the future development trend of the industry. This Beijing exhibition will bring a broader and more comprehensive product experience to the VAPE industry. The exhibition gathered VAPE manufacturers, electronic liquid manufacturers, first-class brands and distributors from all over the world. At the same time, we held a new product release conference and China VAPE Channel Summit Forum to provide an effective communication and display platform for industry manufacturers, channels, physical stores and consumers. The exhibition will focus on VAPE finished products, electronic liquids, electronic atomizers, batteries, VAPE channels, physical stores and other industrial chains upstream and downstream, integrating all resources, assisting businesses and distribution links to achieve docking, dredge terminal sales and consumers Relationship, establish domestic convenience, three-dimensional market sales channels, and lay the foundation for the future healthy, orderly and sustainable development of China's VAPE market. The exhibition has received strong support from many domestic and foreign media.
The exhibition lasted three days and ended on October 22nd. Various VAPE manufacturers, electronic liquid manufacturers and VAPE parts manufacturers have brought their own new products to the exhibition. They are not sought after by many customers. I believe that these new products will be available in a few months.
"Hangboo is a leading e-liquid manufacturer and e-liquid supplier with factory locations in Guangdong Province, China. We provide Wholesale e-liquid and OEM e-liquid businesses worldwide."