Things to know when attending an e-cigarette show
Views: 226 Update date: Dec 17,2018
The largest e-cigarette exhibition in the year is the e-cigarette exhibition in Shenzhen in April. In April 2018, the e-cigarette exhibition pavilion reached six, and the subsequent exhibitions were basically maintained in one exhibition hall.
What are the benefits of attending an e-cigarette exhibition? To be honest, the benefits are quite a lot, much better than attending other exhibitions. I have participated in many exhibitions. You can only look at most exhibitions. If you want products in the exhibition, you have to pay for it. But at the e-cigarette show, you can easily get back a bunch of E-liquids. If you are lucky, you can also get some e-cigarette products, some small gifts and so on.
Therefore, in the 2019 e-cigarette exhibition, I will definitely go back to participate. Given the experience of exhibiting, I will summarize a little about what I need to know to participate in the exhibition so that I can get a better experience in the exhibition. Of course, I can get more. E-cigarette products are even better.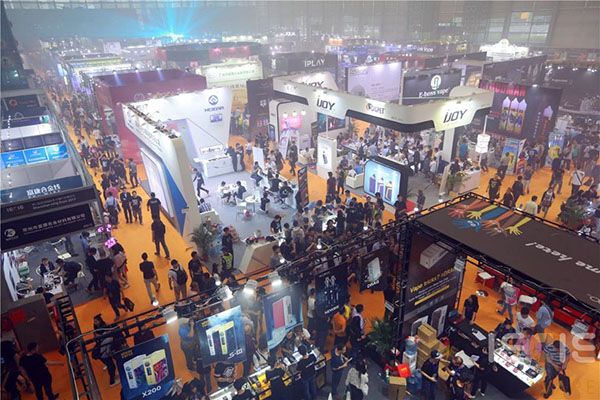 Let me talk about it in order:
1. Registration: It is best to register online in advance via mobile phone. The registration is very simple. Just fill in the phone number, name, position and exhibiting category, then display the two-dimensional code of the exhibitor at the participating service desk and get into the exhibition hall. Listing.

2. prepare smoking equipment: If you have used high-power smoking equipment, you need to match the drip-type atomizer, because there will be too many E-liquid for you to try on the exhibition site, the oil storage atomizer is obvious Not suitable. You don't need to bring cotton or toilet paper, it will be provided on site; if you are using small smoke, please bring some open-type cartridges. Don't try oil frequently, because too many tests may cause taste fatigue, and there will be too many E-liquids on site. You can go around and choose the E-liquid you want to try.

3. sneakers: go to the e-cigarette exhibition you need to wear sports shoes, a three-day exhibition, in addition to an array of e-cigarette products, a large exhibition hall, your favorite booth more guests, may make you everyday It takes 4-6 hours to walk, so a walking shoe is a must.

4. bag: Maybe you will carry a backpack to the exhibition, but the backpack is not convenient, you may encounter more product brochures and gifts, the backpack is obviously not very unsuitable. There will be a lot of bags with advertisements on the spot, so you don't have to bring a backpack, so you can reduce your weight. In the 2018 exhibition, there is also a trailer with a box that can be collected free of charge. I don't know if it will be there in 2019. If you bring this kind of trailer, it is more convenient.

5. Water: We know that when we smoke E-liquid, it is easy to dry, and we need to keep moving around the exhibition. You need to bring a bottle of drink. Of course, there are drinks in the exhibition, but the price is very high. And there are few types.

6. eat: the exhibition will provide meals at noon, this should be purchased as soon as possible, because usually the supply is not enough, if late, you can only eat bread food.

7. Purchase of products: There will be a lot of e-cigarette products on the show, but there are also many products that people can't give. If you want to buy such products, don't worry too much. It is best to wait until the last day of the show. Buy again. If it is an electronic smoking article, you can bargain, you can talk about it by 70% off; the most cost-effective is E-liquid, especially foreign E-liquid, they are hard to bring back, you can even get a lot of their E for free. -liquid, you can buy it at least 50% off.