The popularity of e-cigarettes is a trend
Views: 218 Update date: Mar 30,2019
First, the global trend of tobacco control, international giants have laid out new types of tobacco
The global tobacco control campaign has become a trend, and international giants are also deploying new types of tobacco, which explains why the parent company will acquire JUUL. Because its own customers are old smokers, and they are dying, the new smokers are starting to smoke, and they can only find new directions.
I think that whether an industry is a sunrise industry no longer depends on your customers, who live longer.
From a product point of view, cigarette packaging is extremely disgusting in foreign countries, and I never buy cigarettes; but Chinese cigarettes are different, and Chinese and Hongtashan are beautifully packaged. The leader of a listed company once showed me a cigarette of 10,000 yuan. Except for the beautiful packaging, I didn't feel it when I finished it, but it was priced at 10,000 yuan.
Therefore, I believe that from the perspective of the tobacco control system, China's current profit and tax ranks first, and the public's health may rank second. As a result of tobacco control, many companies are beginning to research new types of tobacco.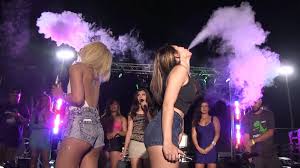 Among the new types of tobacco, the best is IQOS. We only know that IQOS is a brand. In fact, IQOS is four brands, and IQOS had sales of 4 billion US dollars last year.

In addition, I believe that China Tobacco Systems should increase its R&D investment in new tobacco. British American Tobacco invests more than 2.5 billion US dollars, and Japan Tobacco also invests 2 billion US dollars. The Chinese tobacco system companies are very small in terms of time and investment quota, and should increase research and development efforts.

Second, European and American countries prevail in traditional electronic cigarettes, IQOS is popular in East Asia

In 2017, the global sales of new tobacco reached US$17.75 billion, a year-on-year increase of 49%. The CAGR reached 51.4% between 2012 and 2017, and continued to grow at a high rate.

Before 2016, e-cigarette products were mainly open-type cigarettes. Due to the rise of IQOS and JUUL, the global heating and non-combustion, closed-type cigarettes quickly rose. In 2017, the total of the two was nearly 45%. The smoke was gradually eliminated by the market.

I found that East Asia is the main market for IQOS. Due to smoking culture and atomized e-cigarette control problems, East Asian countries such as Japan and South Korea have higher acceptance of heating non-combustible products. According to PMI statistics, 1.41 million users in East Asia have been completely converted to IQOS users (no longer using traditional cigarettes), accounting for 76.4% of the world.

Of course, this is related to the control methods of local governments. In Hong Kong, it is more difficult for consumers to buy e-cigarettes than to buy drugs. This reflects that the government's control is very influential on the development of an industry, so everyone will worry about the policy.

Third, the status quo of domestic new tobacco industry

China is the world's largest production base for electronic cigarette products. By June 2017, China had more than 1,000 e-cigarette manufacturing companies, some of which were also suppliers of new tobacco products to international tobacco giants. However, there are few well-known brands of new tobacco products in China in the new international and domestic tobacco markets.

I believe that the frequent smuggling cases reflect the demand of some domestic consumers for new tobacco products such as tobacco. If the policy is liberalized, the domestic new tobacco market is expected to have a bright future under the premise of clarifying the scope of powers and responsibilities of manufacturers and distributors of new tobacco products and ancillary equipment.

As far as I know, all Chinese cigarette companies and their research institutes are deploying in the new tobacco field through self-reliance or cooperation. Currently, six companies have released related products. In terms of research and development, the finished products and listed companies include Sichuan Zhongyan, Yunnan Zhongyan, Guangdong Zhongyan, Hunan Zhongyan, Hubei Zhongyan and Shanghai New Tobacco Research Institute. The products include heating non-burning tobacco, electronic cigarettes, and The mouth contains smoke.