The Notice clarifies that it is not allowed to sell e-cigarettes to minors.
Views: 287 Update date: Nov 01,2018
We know that the nature of minors is curious about the world, so they are easily attracted by things outside. They usually don't have good control, so they are easy to get into the habit of taking drugs, gambling, fighting, etc., so they must be underage. To receive supervision and guidance from parents or schools, this supervision and teaching is often flawed, such as many minors who are addicted to smoking. Because underage has its own space, parents or teachers are not always around, which is why so many minors are infected with cigarettes. However, now they are more likely to be infected with e-cigarettes.
Preventing minors from smoking has not been done well in the country, so the problem of underage smoking addiction is getting worse and worse. This is happening under controlled conditions, so if you want to prohibit minors from smoking e-cigarette is even more difficult. Previously, the article "How to prevent minors Vaping Vape" also discussed this situation in detail.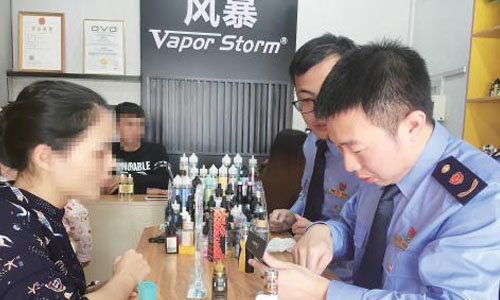 There are policies that are better than nothing. With policies, there is a legal basis for prohibiting the sale of e-cigarettes to minors. Watching the growing number of minors getting into the habit of smoking e-cigarettes, the demand for policies is increasing. Urgent.

Recently, the State Administration of Markets and the State Administration of Tobacco Monopoly issued the Notice on Prohibiting the Sale of e-cigarettes to Minors.

The promulgation of the "Notice" clarifies the social protection of the physical and mental health of minors, and various market entities are not allowed to sell e-cigarettes to minors. Although "Through" came a bit late, but after all, it is coming, the law enforcement department has the basis for law enforcement for the sale of e-cigarettes to minors, and the seller will also measure the sales of e-cigarettes to minors. The consequences are. I believe that the implementation of the notice will at least inhibit the occurrence of this situation to a certain extent.

At present, China is still in the process of formulating national standards for e-cigarettes. The national standards for e-cigarettes have not yet been officially promulgated. The quality of e-cigarette products on sale in the market is uneven. Some products may have E-liquid leaks, inferior batteries, and no Safety hazards such as the addition of safety ingredients, and these problems E-liquid is easier to sell to minors, because their identification can be worse than adults, so the harm will be greater.

In addition, most E-liquids contain nicotine, nicotine is a highly toxic chemical, and the concept of the amount of smoking by minors is still lacking, and the harm of nicotine is not well recognized. Inhalation of such aerosols is easy for the lungs. Departmental functions have adverse effects, and improper use can also lead to multiple safety risks such as poisoning.

Market supervision departments at all levels and tobacco monopoly administrative departments will further strengthen the market supervision of e-cigarette products, and combine special actions such as comprehensive management around the school to urge all market entities to sell e-cigarettes to minors and to produce and sell. "Three no" e-cigarettes and other illegal acts are promptly investigated and dealt with according to law; schools and families strengthen the education and protection of minors, emphasizing the health hazards of e-cigarettes, and the media strengthens the promotion of minors' smoking, including the dangers of smoking e-cigarettes. Any organization or individual should dissuade and stop the sale of e-cigarettes to minors.